Our Team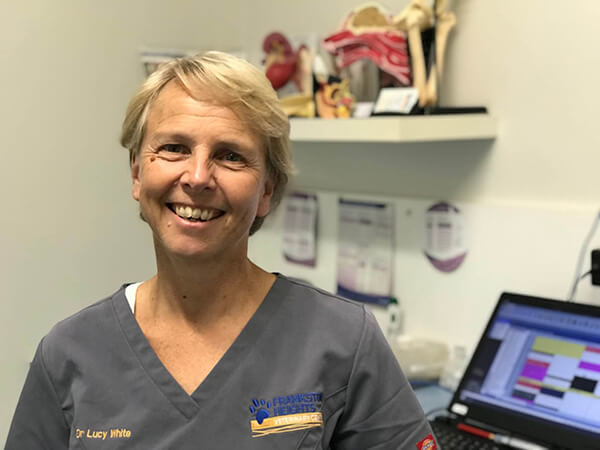 Dr Lucy White
Lucy White graduated from Edinburgh University in 1981. After four years in mixed practice in the UK, Lucy traveled through Asia to Australia for a working holiday and never left!
Lucy is the co-owner of Frankston Heights Veterinary Centre and has a special interest in dermatology – including otitis (ear infections) and allergic skin disease – and in behaviour management and internal medicine.
She is also the co-founder of the West Arnhem and Daly Dog Health Programme, which has been providing health care to dogs in remote communities in the Top End for the last 12 years.
Locally she is lead vet for Pets in the Park Frankston – a monthly pop up clinic providing veterinary care to the pets of those who are ex;periencing homelessness.
In 2018 Lucy was awarded Practitioner of the Year by the Australian Small Animal Veterinary Association for her contribution to the profession and her work within the community.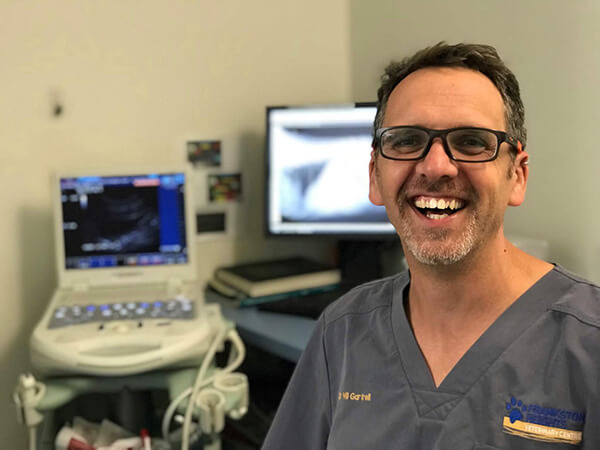 Dr Will Gartrell
Since moving to Brisbane in 1998, Australia has become Will's home. He is proud of his Australian vet degree, Australian wife and children, and Australian citizenship.
After years of adventures with farm and family animals in both South Gippsland, and the UK, Will and Isabella settled back into family practice on the Mornington Peninsula.
Will enjoys being a true family vet GP and spends most of his time in first-opinion consultations. Will's particular interests are the human-animal bond and diagnostic imaging. After a year of post-graduate study in 2010, Will heads up our imaging department, in particular ultrasonography.
In 2014 Will became a co-owner of Frankston Heights Veterinary Centre.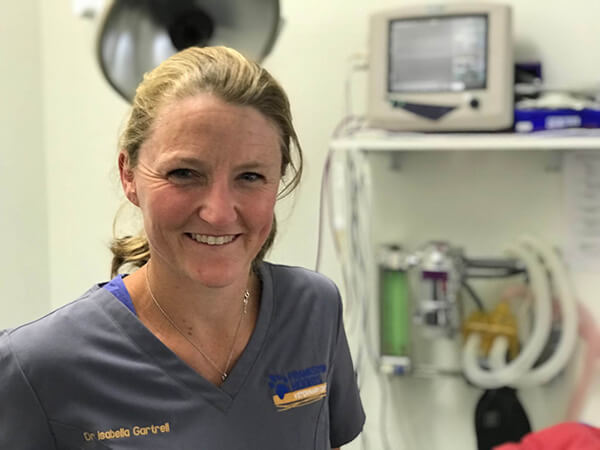 Dr Isabella Gartrell
Isabella graduated from Melbourne University in 1999 and after 5 years of large animal work in Leongatha, spent 3 years doing locum work in the UK.
She returned to settle on the Mornington Peninsula with her husband Will and their 3 children.
In 2010 Isabella successfully completed a year of postgraduate study in Internal medicine. She continued her studies and and recently gained her Membership of the Australian College of Veterinary Scientists in Small Animal Medicine.
Although she is interested in both medicine and soft tissue surgery, Isabella, together with Lucy is the go to vet for medical dilemmas.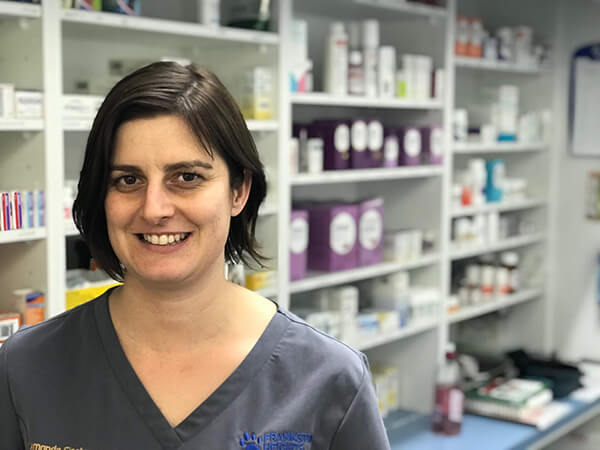 Dr Amanda Fischmann
Amanda Fischmann graduated from the University of Melbourne with a Bachelor of Veterinary Science in 2005.  After working in different small animal clinic in south-east Melbourne for a couple of years, she has found her home at Frankston Heights, and has been part of the team since January 2008.   
Over the past few years, Amanda has developed an interest in veterinary dentistry, and has attended various courses to extend her knowledge in this area.  This has resulted in an improved dental experience for all of our patients; with the use of dental xrays and local nerve blocks. 
She is also crafty, and has sewn most of the bandanas that we use in the clinic for anxious dogs.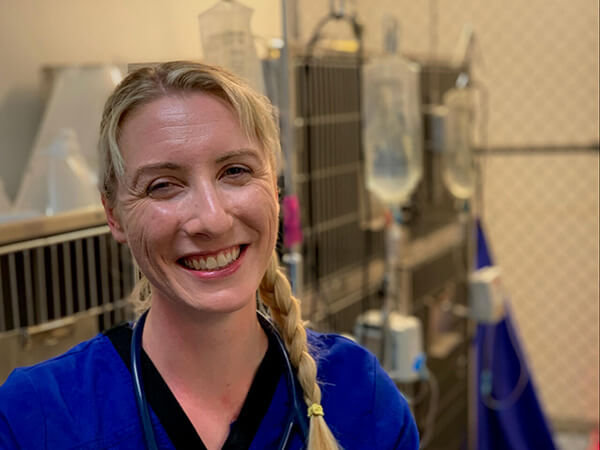 Dr Simone Gruca
Simone began her veterinary career in mixed practice on the peninsula. After a sojurn of 5 years in the UK working as a small animal veterinarian she returned to Australia and joined our team at Frankston Heights.
Simone shares her life with menagerie of rescue cats and dogs and throughout the years has developed an interest in internal medicine particularly of the feline variety.
Simone is currently enrolled in Sydney University's Centre for Veterinary Education's year long course in Feline Medicine.
Dr Veena Kendaragama
Veena graduated from the University of Melbourne in 2010 and has worked in small animal practices in Gippsland, the Mornington Peninsula and Singapore before joining Frankston Heights Veterinary Centre in 2020. She completed her Master of Veterinary Studies in 2017 and loves all aspects of being a general practice vet. She has enjoyed getting to know the clients and patients at Frankston Heights since joining the team.
Veena is the proud owner of two mischievous terriers and one cheeky cat.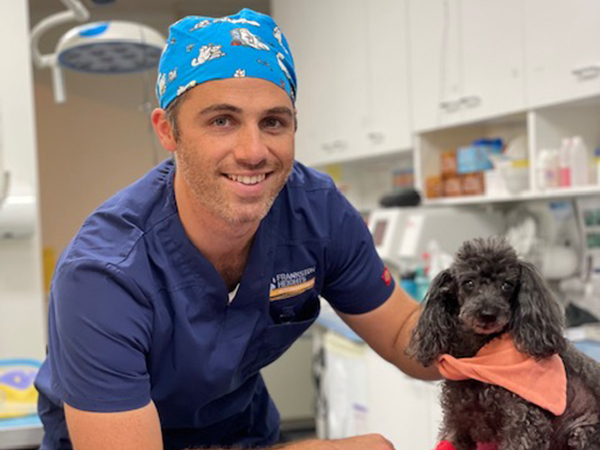 Dr Scott Roberts
Scott graduated from the University of Melbourne 2016, and worked in the northern suburbs before joining Frankston Heights.
He has a particular interest in ophthalmology, soft tissue surgery and medicine.
Outside of work, Scott is a keen hockey player in winter, and heads to the beach in summer. He owns a beloved cat Mara and 3 chickens.
The Nurses & Receptionists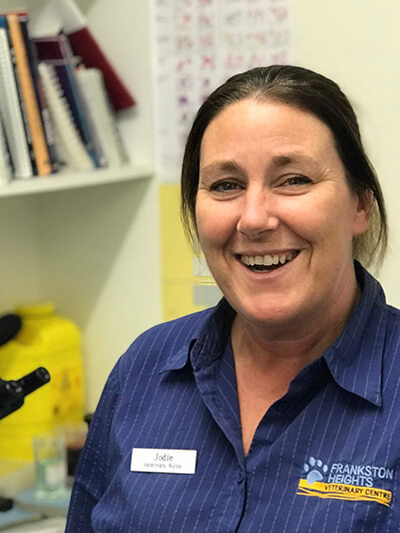 Jodie Dalziel
Jodie is our longest standing veterinary nurse, having started at Frankston Heights in 2003. Jodie is the senior nurse in our out-patient team at reception and in team consultations and also works as a surgical nurse.
She will often be the one welcoming our clients, and performing nurse consultations and has a special interest in dermatology and cytology.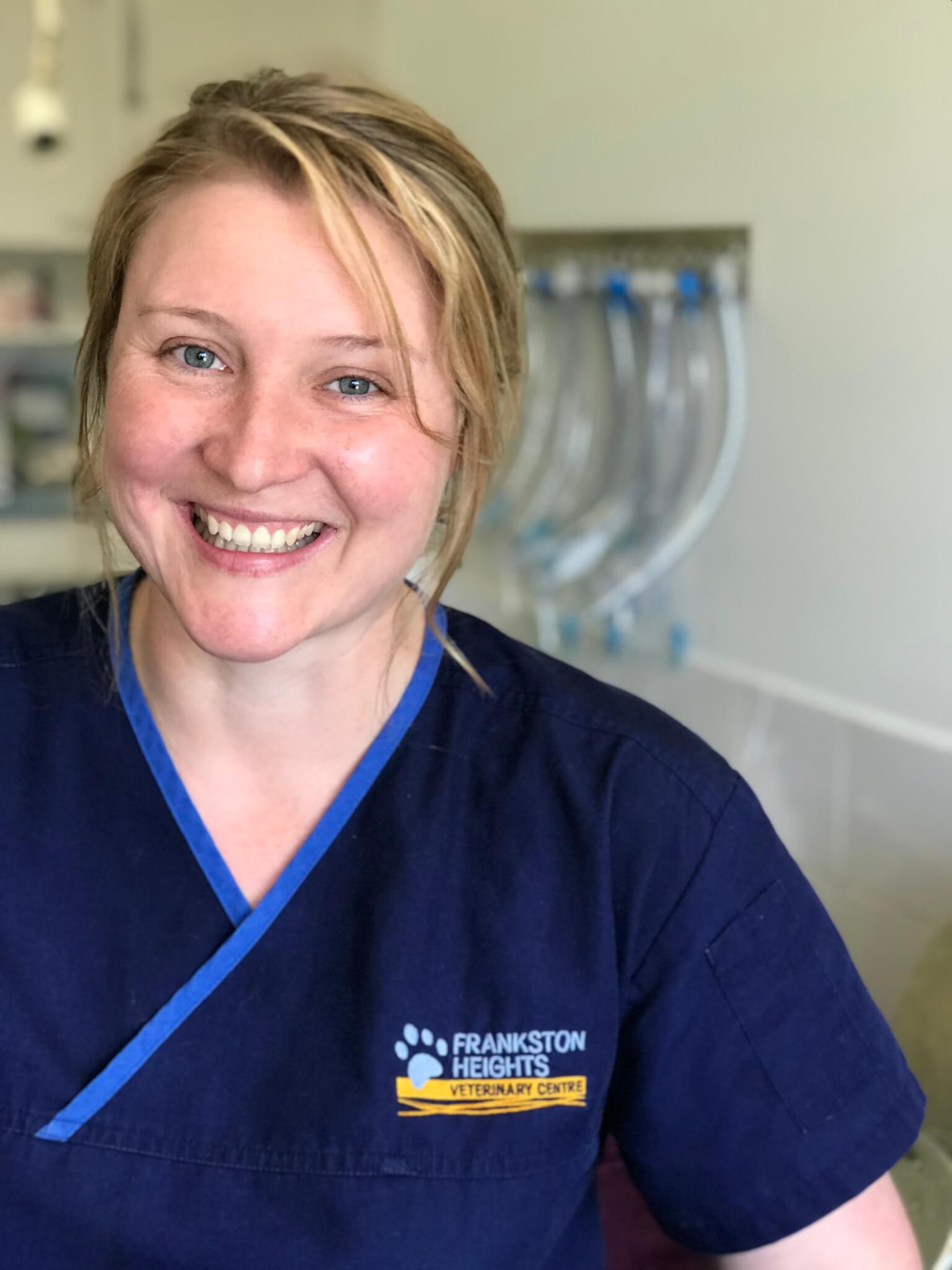 Meagan Kelly
Meagan is a cert IV qualified veterinary nurse and our head surgical nurse.
Having worked in the industry for the past 12 years she has extensive experience in general practice, emergency nursing and surgery. 
With a love for animals great and small, you will find her in our treatment room where she holds a special interest in anaesthesia and dentistry.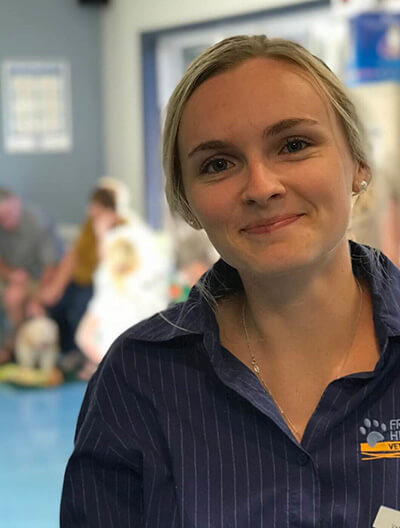 Laura Cowley
Laura has her Certificate IV in Veterinary nursing alongside a Batchelor in Animal Technology.
She joined Frankston Heights in 2016 after years of nursing and took on the role of puppy school teacher and coordinator. With her ongoing education and interest in behaviour, Laura is committed to continually advancing our positive reinforcement program.
Alongside her keen interest in dentistry, you will also find her greeting you in the reception area and assisting during consultations.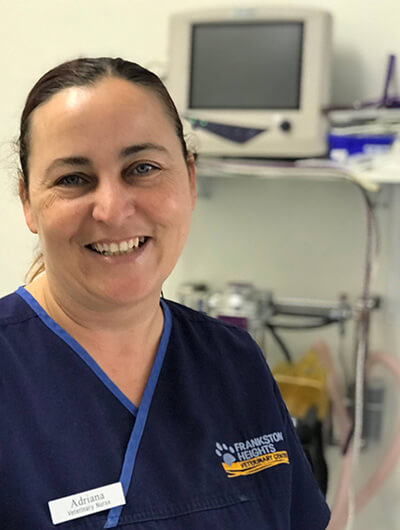 Adriana Geslecki
Adriana 
has been Vet nursing for over 20 years and has a keen interest in surgical and dental nursing.
She is a Delta accredited dog training instructor and has a wealth of knowledge in animal behaviour which is put to good use in our puppy pre-school where she is one of our experienced presenters.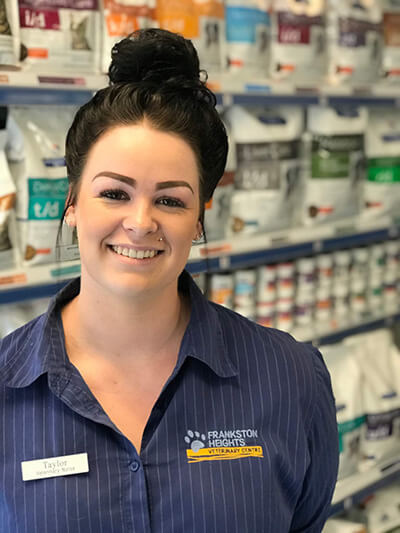 Taylor Dearden
Taylor started at Frankston Heights in 2015 as a volunteer while studying for her Certificate IV in Veterinary Nursing.
In 2016 she gained her qualification and became a permanent member of the team!
She contributes in all areas of the practice but particularly provides support and encouragement to our clients with their pets on our healthy weight program, and is responsible for our calming pheromone program throughout the practice.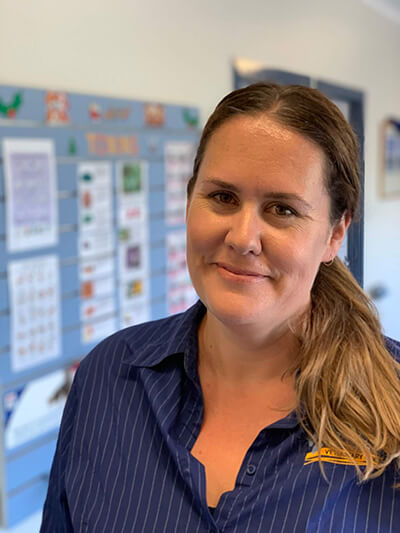 Lauren Hammond
Lauren began veterinary nursing in 2003 and has worked in both small animal and emergency clinics.
She joined the FHVC team in 2018, 
enjoys all aspects of nursing and currently is responsible for the maintenance and running of our in-house laboratory.
She is currently raising a puppy for Dogs for Kids.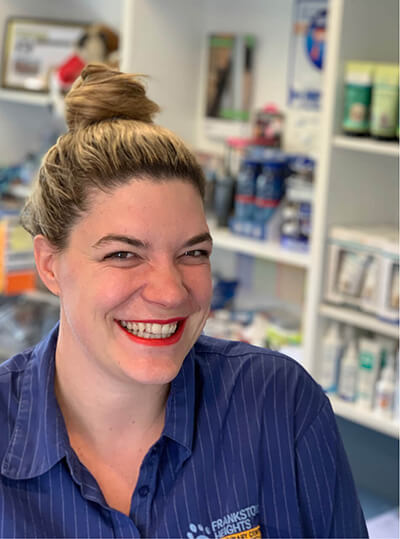 Rosie Hermanek
Rosie started nursing as a 15 year old and joined Frankston Heights when she was 19.
She subsequently gained her Certificate IV in Veterinary Nursing and following further study, her Diploma of Surgical Nursing.
She loves all aspects of the job (surgery, consulting, reception, and admin) 
Rosie loves living on the Peninsula with husband, two children, 2 cats, fish, one snail and beloved house plants!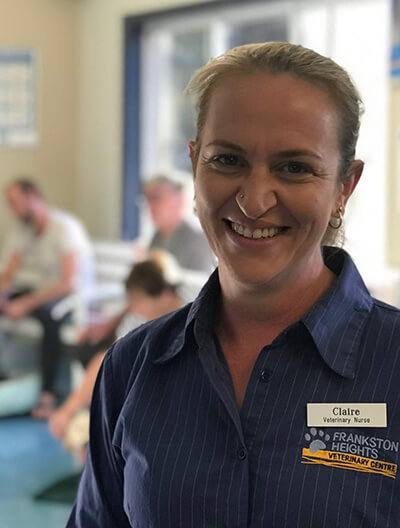 Claire Freese
Claire has been nursing at Frankston Heights for nearly 10 years.
She has recently returned from maternity leave to help run our Puppy School classes.
It's great to have her back!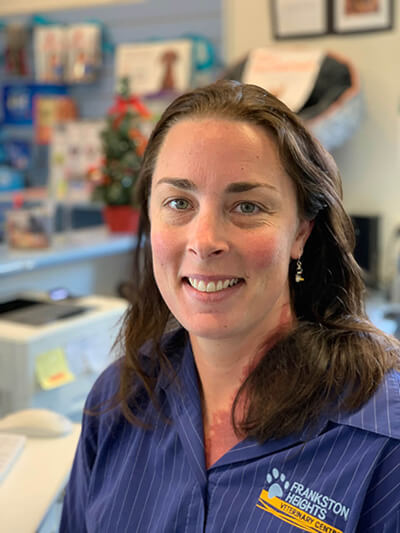 Cass Lukeman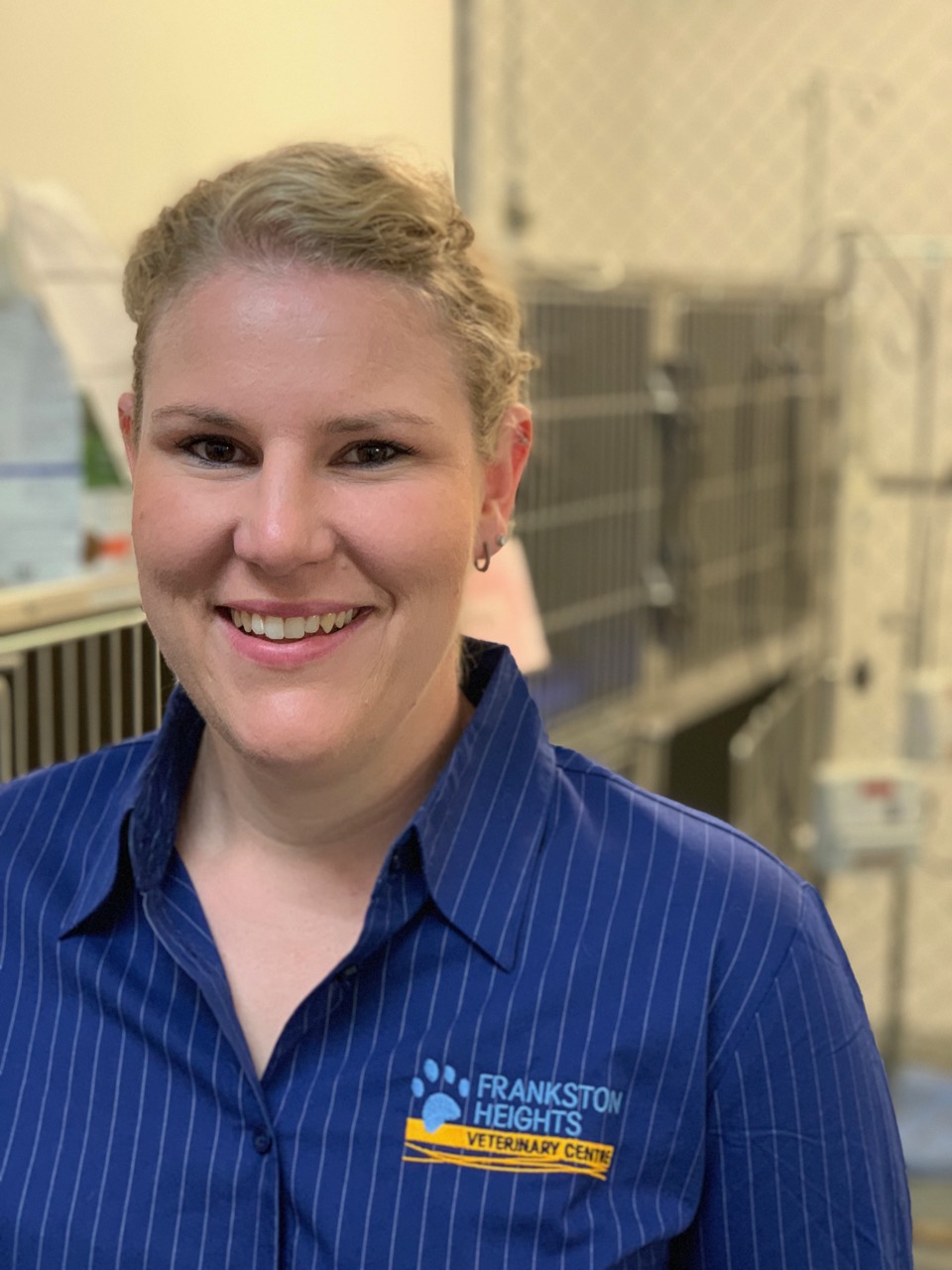 Laura Grinblat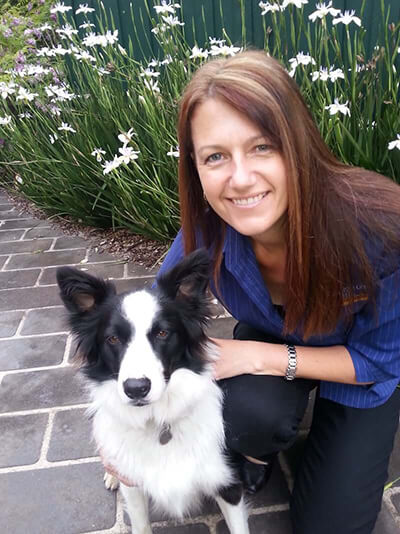 Have a Question? We Can Help